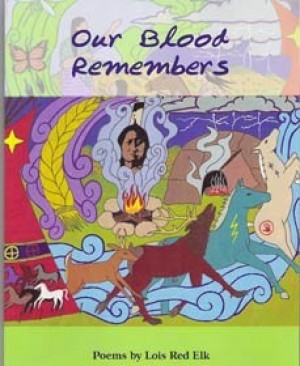 If you Google Lois Red Elk you will be pleased to discover dozens and dozens of hits that feature her film roles.
I've enjoyed many of Lois' films over the years: Skins, Lakota Woman, Outside Ozona, just as much as I've enjoyed her published poetry over the years.
This year Lois released her first collection of poetry Our Blood Remembers by Many Voices Press. Congratulations Lois!
The following is a review from The Herald News out of Roosevelt County, Montana.
By Lara Shefelbine
A Wolf Point woman who has written for more than 50 years has published a collection of poems in her first book, bringing alive numerous memories of her lifetime, childhood and family experiences on the Fort Peck Reservation.
In the book Our Blood Remembers, Lois Red Elk weaves together a series of anecdotes and thoughts from her lifetime using dazzling, imaginative poetry.
Red Elk, a member of the Sioux Nation and an enrolled member of the Fort Peck Tribes, tells of her childhood spent growing up between Poplar and Wolf Point and the lessons she learned being raised by her father, mother and influential grandmothers.
Not only does the author detail meaningful events of her lifetime, Red Elk also shares some of her favorite Dakota/Lakota words and phrases. Her perspective brings a new light to topics ranging from the importance and significance of family to the exploitation of Native American culture. The content of the poems contained in Our Blood Remembers ranges from the distant past and the old ways to the present and the changes that have occurred with the passage of time.
All in all, Red Elk offers an undisguised look at the Sioux culture that defines her life and encourages us to feel the emotions that run deep in the blood, which truly does remember.
Our Blood Remembers was published by Many Voices Press of Flathead Valley Community College. It is available at Fort Peck Community College, where Red Elk teaches Indian studies, and online at Amazon.com.